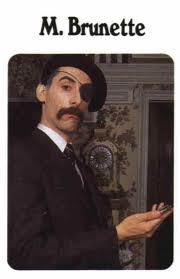 Alphonse Brunette
Cluedo character
First appearance
Clue VCR (1985)
Last appearance
Super Cluedo (2006)
Information
Species
Human
Gender
Male
Age
31
Date of birth
August 17
Specialty
Conning
Occupation
Lawyer
Title
Monsieur
Religion
Athiest
Nationality
French
Monsieur Brunette
is the stock portrayal of a foreign
con artist
.
Personality
Edit
In most of his incarnations, he is a deceitful Frenchman out to con others for his own personal gain.
Brunette was played by Michael Dell'Orto. Making his first appearance in the Clue world, M. Brunette arrives announcing himself as Mr. Boddy's lawyer. He takes it upon himself to brief the others of Boddy's wishes during the will reading. However, he is secretly a conman who hopes to cheat the others out of their earnings along with his foster daughter, Miss Peach. Not surprisingly, he also isn't really French. He always wears an eye patch that he allegedly needs. And M. Brunette goes to Paris, France.
Master Detective 
Appearing once again, this time M. Brunette portrays a fraudulent art and arms dealer. His works for which he had sold have come under fire due to questionable authenticity. His inept abilities at being genuine are clearly illustrated by his failure to notice the difference between Monet and Manet.
Super Cluedo/Passport to Murder
Once again, Brunette makes his first appearance in Britain. Although the character is the same as his Master Detective counterpart, his name had been changed and he was now called Mr. Brown in Passport to Murder and even stranger, called Mr. De'Ath in Super Cluedo. Nonetheless, the character is no longer visually a French stereotype.
Community content is available under
CC-BY-SA
unless otherwise noted.